I think I already know what you're thinking:
"What is this ToU you speak of?"
I'm not sure if you noticed but that giant long wall of text that you agreed to when you signed up is called the ToU, Terms of Use.
http://www.nexon.net/legal/terms-of-use/
A back history in MapleStory, there is something going on in there that just doesn't quite make me understand. As the title may suggest, it is about leeching. For those of you who don't know what leeching is, it's when a person Read the rest of this entry →
Recently, Nexon has showed us a sneak peak of what was yet to come on the May 31 patch.
To see more details, check: http://maplestory.nexon.net/News/News.aspx?boardNo=100&contentNo=00Dyr&pageIndex=1
However, one thing has caught my eye: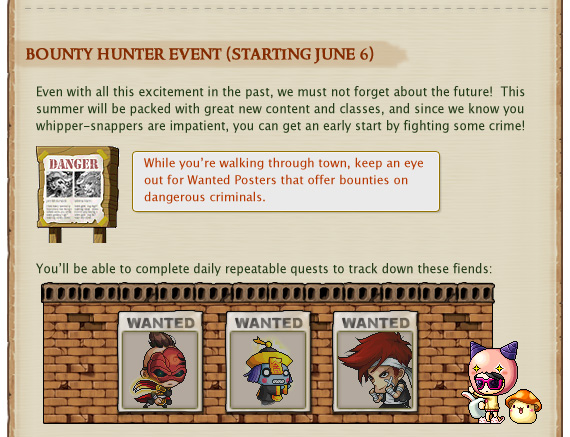 These are stuff I have not seen before in any version of Maple and it draws assumptions to this.
One question though: Is this a sneak peak of this gMS "exclusive job"?
Bounty hunters? WHO KNOWS?!!!!!!!!!!!!!!!!!!!!!!!!!!!!!